For Spanishn translation click here

For German translation click here

For Swedish translation Click here
---
Fluid - Who needs it?
FACTS
Total body water below normal - Hypohydration:
Increases body temperature
Elevates heart rate
Increases risk of heat stroke
Increases fatigue
Reduces mental function
Affects fine motor control
Affects concentration, decision making AND Performance
By drinking regularly during exercise/competition, athletes can prevent declines in concentration and skill level, improve perceived exertion, prevent excessive elevations in heart rate and body temperature and improved performance - good justification for every athlete and coach to make fluid replacement a key priority during training and competition.
How much should athletes drink during exercise?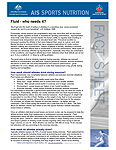 The Australian Institute of Sport has done extensive research and has come up with an excellent three page fact sheet in PDF format - Fluid - who needs it?
We recommend that every athlete and coach should take time to read this and develop and implement hydration strategies during training and competition.